Trip to Ireland - Part I
My journey to Ireland is something I would never forget. There were so many beautiful and moving moments, and there were trials and tribulations as well...

The night before I left for Mangalore Airport, my right eye was red and itchy. I thought it was a normal eye irritation, so I applied a few drops of EyeMo before I went to bed. I woke up at around 5 a.m., and the eye was still red... and it has somewhat become more painful. I applied EyeMo once again, hoping that it will be okay by the time I reach Bangalore and had my proper rest in the plane (didn't have one the night before.. I was busy packing, checking everything.. oh and was busy feeling excited). Maziah and I waited for the promised taxi for a good one hour, before she lost her patience and called the driver. We were worried that we might miss the plane. The taxi driver said he didn't know the way to our apartment! We panicked. Luckily, the guard at our apartment offered to fetch the driver and direct him to the apartment.

We got to the airport safe and sound.. and in time... to find out that all the worrying were useless. Our flight was delayed again and again.. up to 5 hours of delay! In the mean time, my right eye was beginning to hurt and throb, and its red colour is becoming more prominent. After a while, I noticed that the eye was not able to see things clearly... everything seems a bit foggy. I got scared, and it was a really frightening time waiting for the flight to take off. I just wanted to get to Bangalore and see the doctor there. My friends were very concerned with my situation. Shidan, my class rep, was kind enough to carry my luggages and offer me a towel to dab the tears that kept coming out from my sore eye. Thank you.

By the time we arrived at Bangalore, it was already late afternoon. I rushed to the auto, alone, and told him to bring me to a clinic, a hospital.. anywhere relevant to get my right eye checked. The driver brought me around aimlessly - he doesn't seem to know where he can take me - and the pain was becoming more and more unbearable. The eye practically throbbed and was extremely sensitive to light. I broke down and the auto driver panicked. He brought me to a spectacles shop. Everyone looked at me and my puffy face and red eye. One guy asked "what happened?". I croacked a little when I told him, "it's my right eye. It's really painful. I need to see the doctor". He told the auto man that there was an optical clinic named Vagh Eye Center nearby, and the driver brought me there.

Dr. Mustali M. Vagh took a look at my eye. "It's bad," he says.

"Bad.. as in.. I can lose my eyesight?" I asked, scared.

"Yes, you CAN lose your eyesight."

The words hit me hard. The doctor went on to explain that it was bacterial, and it had spread to my cornea.

"What are the chances that it will be okay?"

He said if I took my medicine religiously, the chances would be high. I promised him I would, and he told me to get a follow-up in Ireland. He would want to see me again the next day. He prescribed Cyclosin (I think that's the name), Vigamox, Tobrex and an antibiotic. The eyedrops were to be taken every half an hour, alternatively. Antibiotics were to be taken three times per day. The auto driver was kind enough to accompany me during my clinic visit, and he took all the trouble to get all my medicine for me. He didn't ask for much either. I guess he sort of took pity in me, all alone and sick.

I came back from the clinic, feeling very sad and worried. Then I realized that I have left my cellphone in the hotel room in all the rush to get to the clinic.. and I didn't have my keys with me, as they were with Maziah. I kept pacing up and down to see if she's back, but she didn't. The eye was getting painful again, and I needed to apply the eyedrop. I needed a clean bathroom to clean my hands to ensure that everything is hygenic. It was then I remembered that I had some Ireland friends' numbers in a book I brought. I wrote everything about the Ireland trip inside my book - the flight number, time of departure, travel documents I brought, and a few contacts and addresses of my friends in Ireland. I went to the ISD/STD calls booth and called Farhan, Maziah's close friend, first. I thought I could obtain Maziah's number from him. He didn't pick up the phone. I called two of my close friends next. Only one picked up and I blurt everything that had happened in an instant. It was sort of embarrassing, but I just needed to tell someone. I didn't want to worry my parents, so I only told them about the eye infection once it was getting better (i.e. a few days after my arrival in Ireland). Alhamdulillah for my friend was willing to listen to my concerns and worries.. Thank you for being there. You know who you are!

Maziah came back after a while, and saw me waiting in front of the room, all tired and puffy. I told her everything that the doctor had said. I didn't really have a good sleep that night. I kept waking up every half an hour to apply the eye drops. The next day, the same auto driver took me for the follow-up. The doctor said I have improved from the day before, and that I should be continuing my medication and see a doctor in Ireland. Before I left, he told me to get more eye drops from Bangalore medical stores before leaving for Ireland:

"The price would be the same in the number, but instead of rupees, it would be Euros. You'd better get your supplies here."

I did what I was told to do. Once again, the auto driver drove around to find all the medical supplies and told me to just rest in the auto. All of the stores seemed to run out of one particular eyedrop I needed, so the auto driver drove all the way back to the clinic and asked the doctor to contact anyone for the supply. I was told to wait in the auto and he did everything he can to help me. After a few minutes, he came down and told me that the supplier would send the medications to my hotel room later. I thanked him profusely and got back to the hotel to rest. An hour later, the medical supplier came and I managed to get hold of two more bottles of the eyedrop. Just after a few minutes, I got a call on the telephone in my hotel room. The auto driver had called and asked if I had gotten the promised medications. I told him I did, and thanked him again.

That evening, after a good rest, my friends called me up. They asked me if I could join them shopping at Garuda Mall. I hadn't had a proper meal since the day I've arrived (I ate Kit-Kat and drank mineral water for every meal), and had not purchase any winter clothing, so I agreed to come. I met a few ex-Kolej MARA Banting and ex-Kolej Teknologi Timur students, who helped us around the mall. I ate a chicken lasagna (Indian style!) and managed to purchase a green winter clothing at MNG. It was a quick decision and an instant purchase. I had no time to think of whether it would suit my other clothings. All I knew was I needed one before coming to Ireland.

We got to the airport at 12 a.m. and had an early check-in. The airport was full with Malaysian students, some heading home, some heading to other parts of India for vacation and me and Maziah, who were heading to Ireland. We left for Frankfurt, our transit stop, at 3.05 a.m.
I'll tell you more about the happier bits of my trip to Ireland, but for now I have to study for my Physiology Self-Directed Learning test this Saturday.. which includes.. the Thyroid Gland and the Male Reproductive System. Yikes! It's a lot! In the mean time, I'll post some pictures of my trip:

Some of the many nice people I met in Ireland. I stayed with Helma (back row, black hijab), Sarah (front row, red sweater) and Hazirah (next to Sarah and me)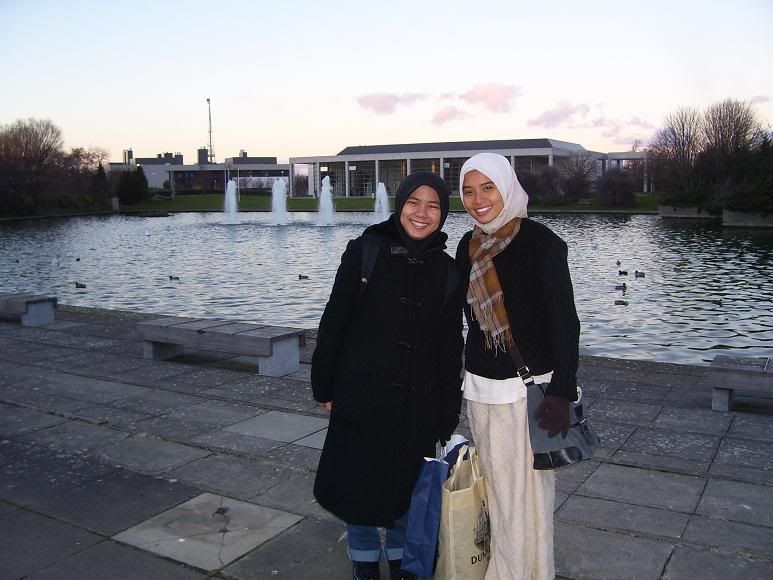 With Helma, at University College Dublin, where I attended a talk by a recent Muslim revert. Notice that my right eye is red and swollen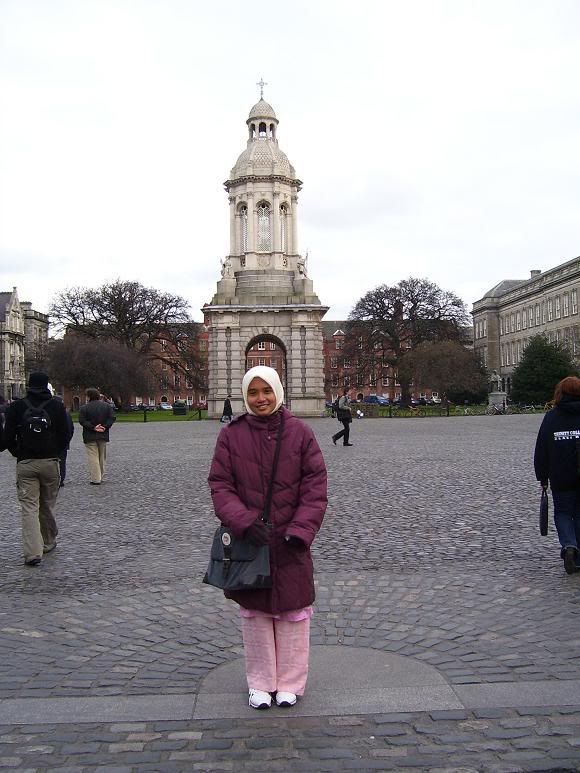 At Trinity College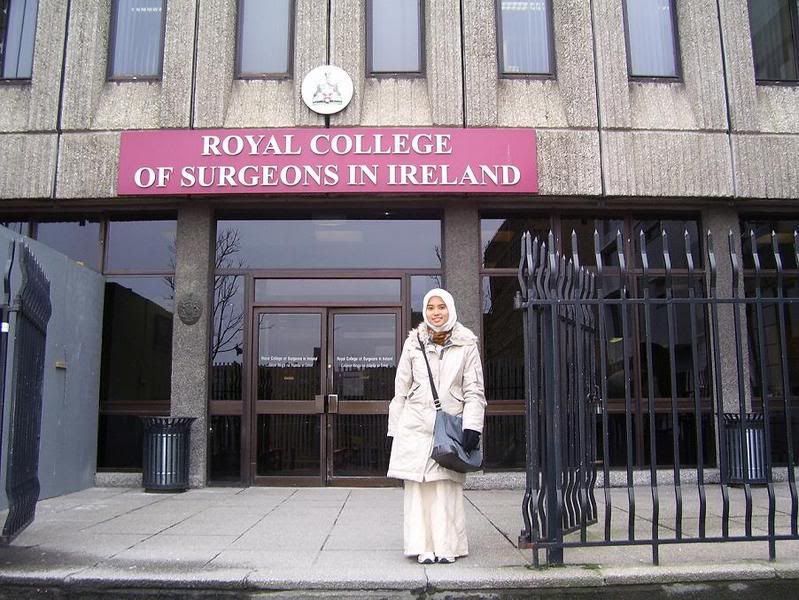 In front of Royal College of Surgeons, where I attended a few classes, just for the fun of it :P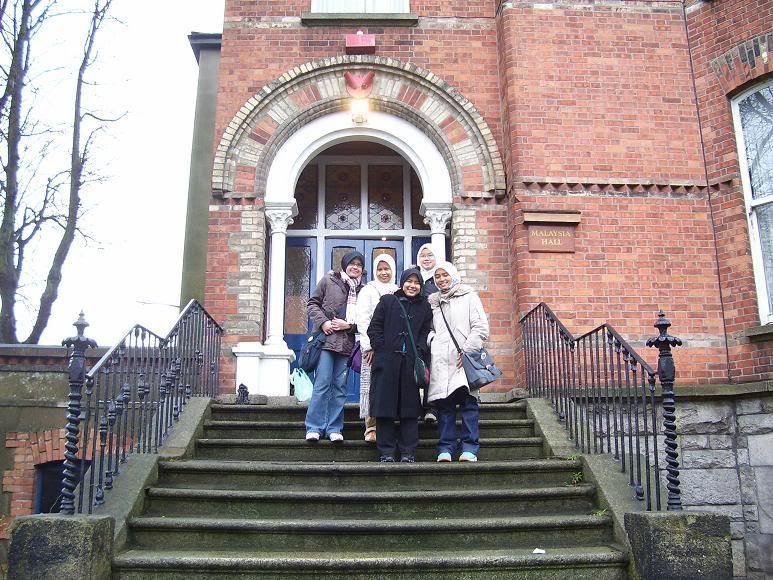 In front of Malaysia Hall, where I attended the Penang Medical College Farewell Ceremony. Good food, good speeches :)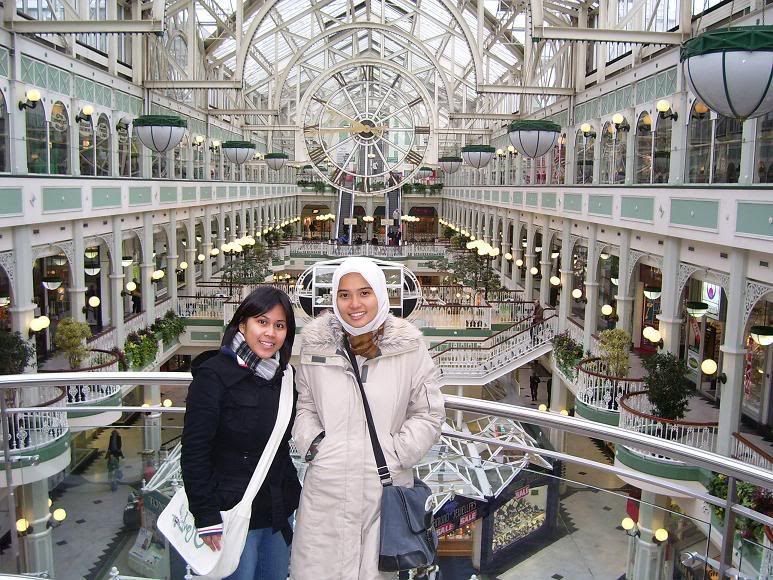 With Atikah, my friend from INTEC, at St. Stephen's Green Shopping Centre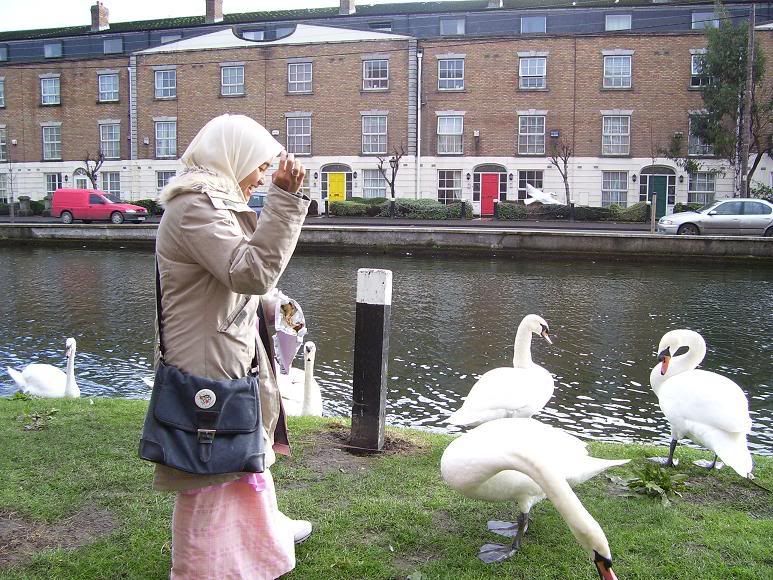 Feeding the swans. I really think it could be a favorite way for me to spend my spare time.. but we don't have swans in Manipal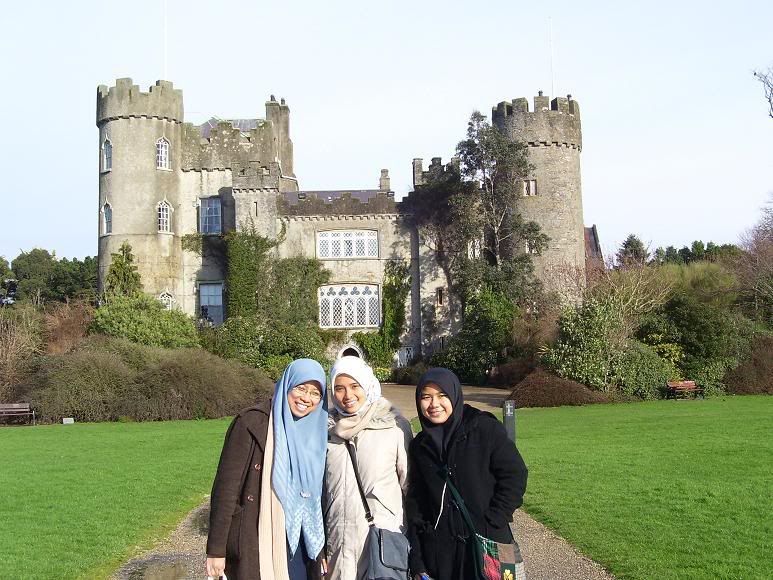 In front of Malahide Castle, with Kak Firdausi and Helma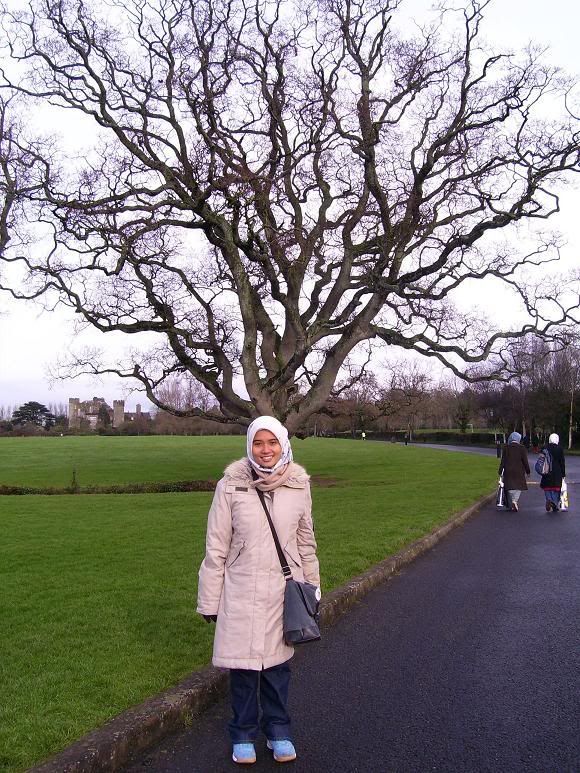 Somewhere around the Malahide Castle. I love that huge tree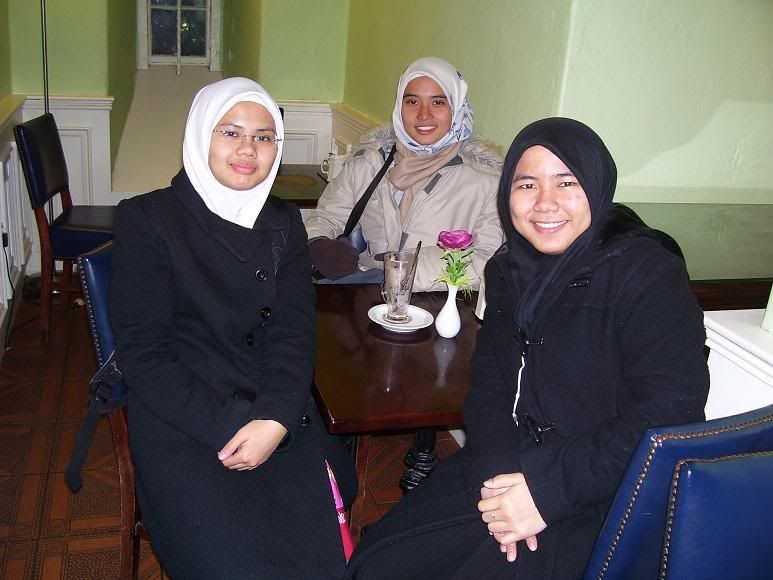 In the cafe within the Malahide Castle. We ordered a hot chocolate drink from the cafe, but we ate nasi lemak cooked by Kak Siha (in the picture) :P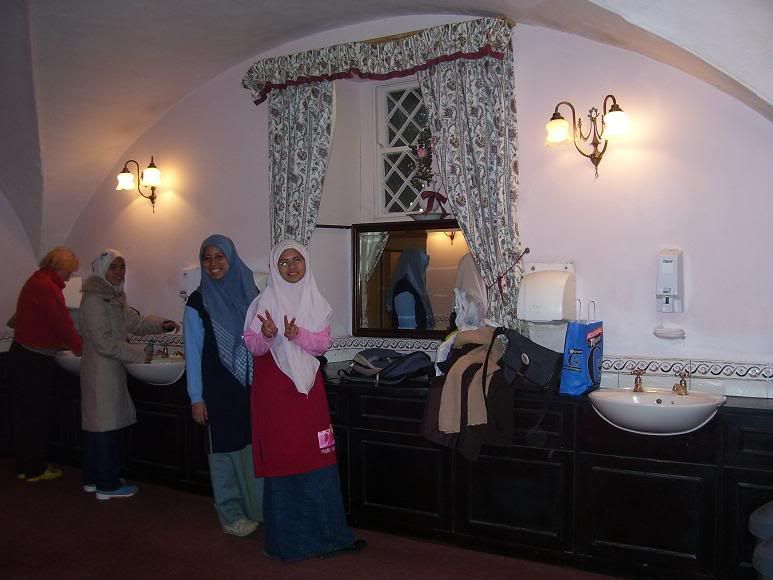 Guess where we are? In the toilet of Malahide Castle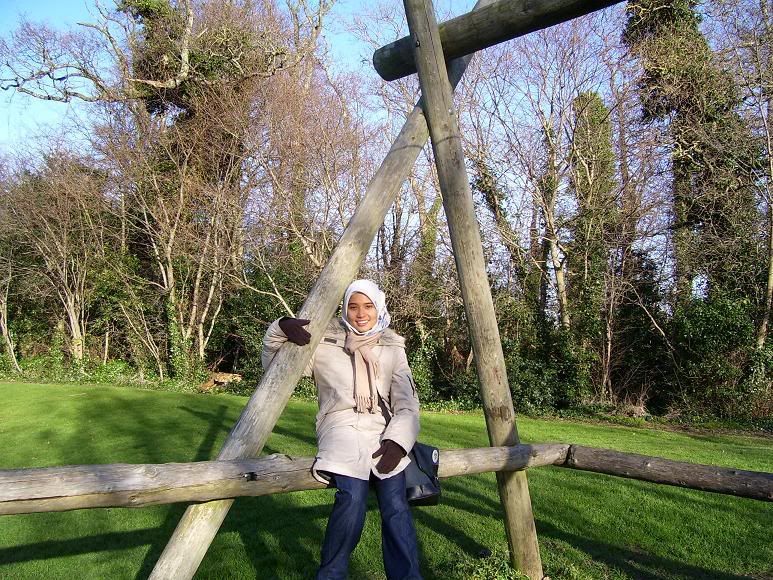 At the playground near Malahide Castle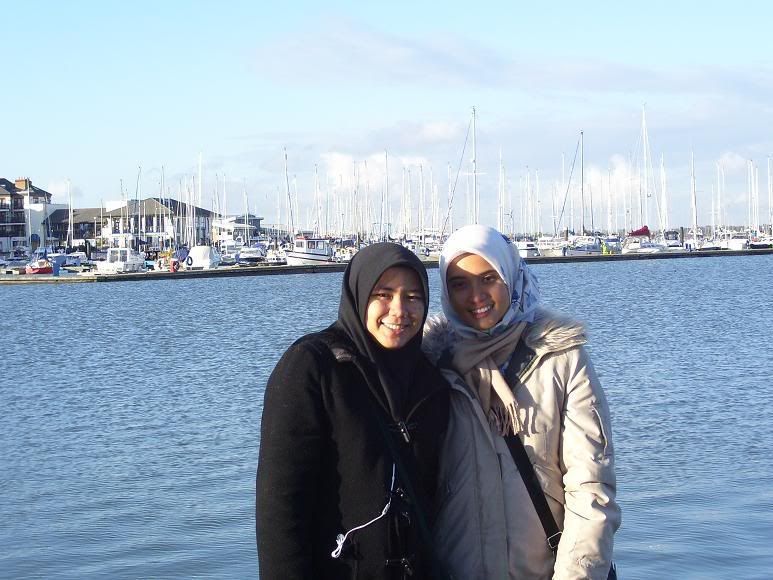 Er.. somewhere I can't recall. We stopped by at this place on our way back from Malahide Castle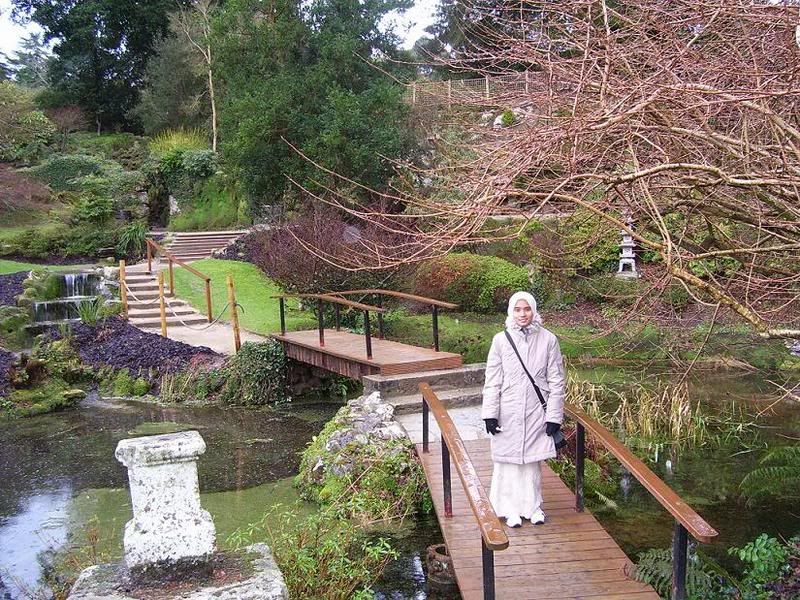 At the Japanese Garden, one of the many gardens at Powers Court. Just look at that beautiful Sakura tree!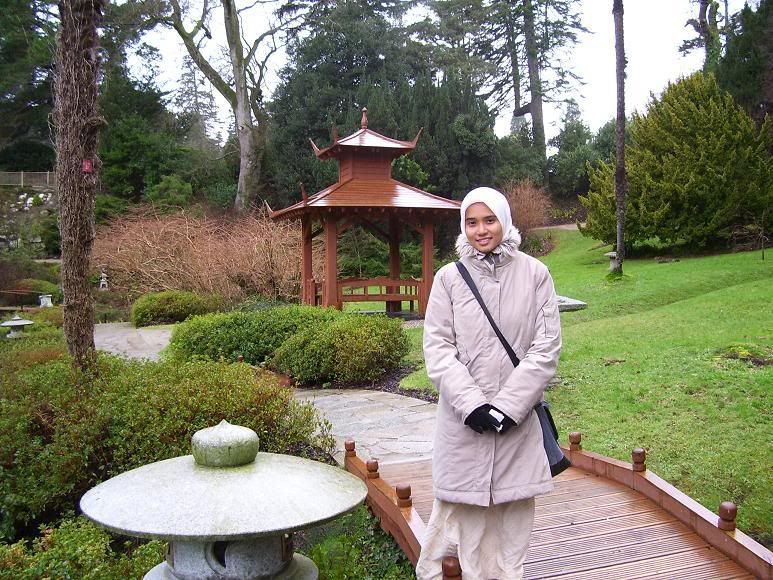 I want a garden like this!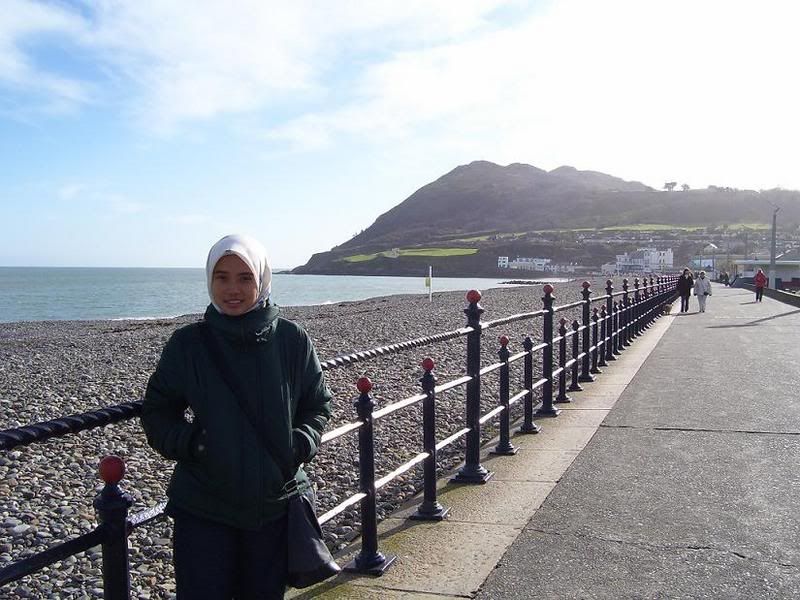 At the seaside in Bree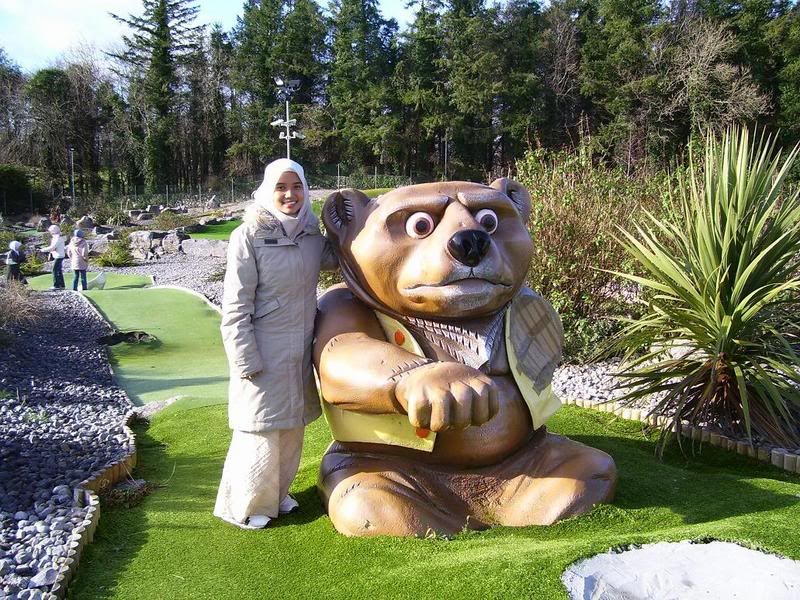 At a mini-golf course, with fairy tales as its theme. I believe this is one of the bears from the story Goldilocks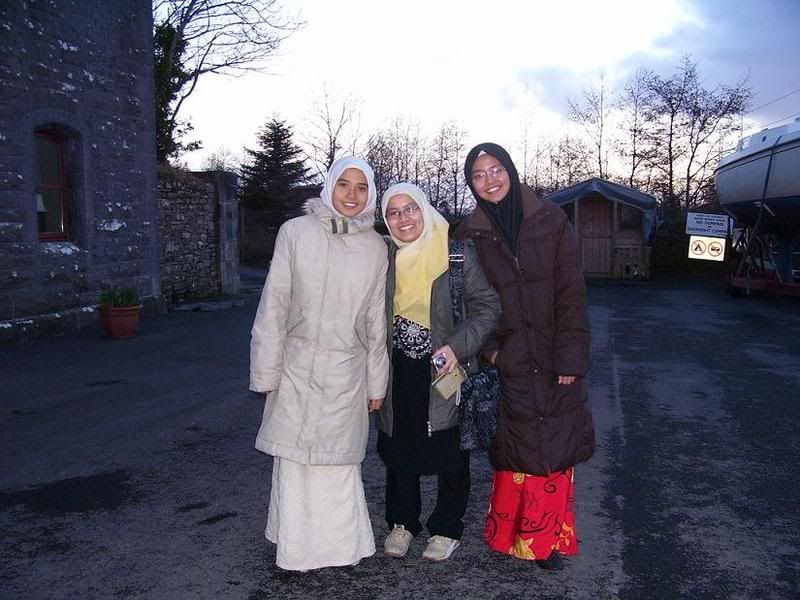 With my friends Jannah and Dayah in Galway. We had just attended a talk on "Shahadatul Haq" and were on our way to visit the lake nearby